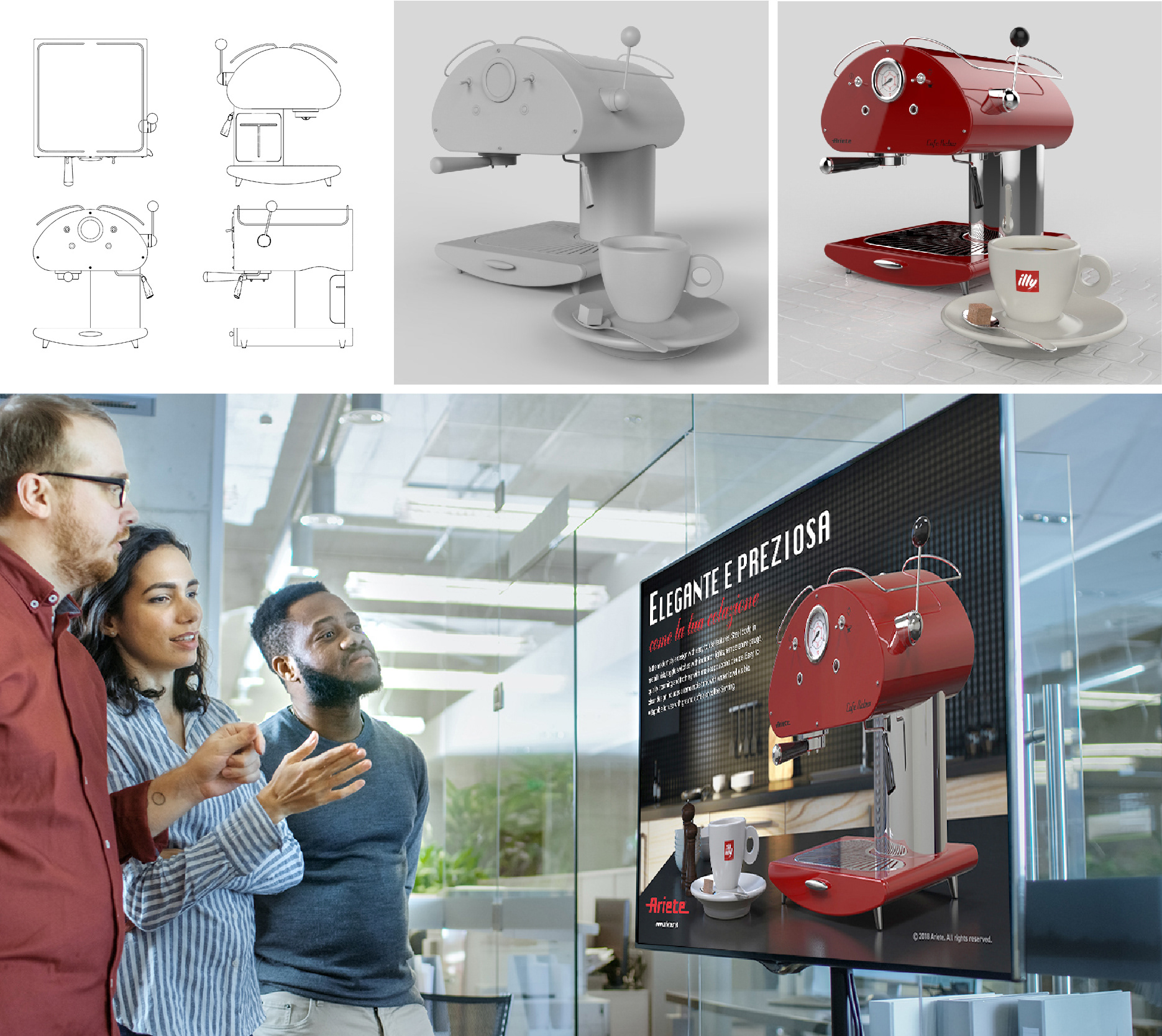 Design, 3D modeling and rendering for consumer products, packaging and displays.
Do you have a great idea for a new product but don't know where to start? Perhaps you need help designing your new product from the bottom up. Or maybe you already have a design but need a 3D model some photo-realistic visuals to help sell it, get it funded or licensed. I can help you turn that idea into a reality with Product Design and 3D Visualization.
Good product design not only gives a product a shape, but it it also lends personality. An anonymous product transforms into something unique. The power of modern design can make products more personal, practical, beautiful, sustainable and clever. Or to put it simply: just more successful.
The design of consumer goods is an important incentive to buy. Appearance is important and innovative design gives consumers added value by enabling them to highlight their individuality.
Good design is intended to sustainably connect customers to a brand and offers customers something for their money. People want products that are desirable, inspire emotions, design that is created intelligently and that not everyone has.
Through the use of digital 3D modeling, textures, logos and lighting, high-resolution images are generated from your design concepts, converting any conceptual design into a fully realized product that captivates your audience with its realistic appearance from any angle.
3D visualization helps move your design idea from concept to reality, providing a unique opportunity to visually engage with a product before it has been created. 
3D Visualization gives you the ability to: 
   • Present their design concepts to investors.
   • Analyze the performance of a product without significant outlay of cash for product creation. 
   • Adequately identify what resources will be needed to create the product. 
   • Accurately communicate the functionality of the product for sales and marketing.
The Design Process
The following 7 step process is necessary for the successful development of any product. All phases must be examined and executed carefully, without hesitation.
The design briefing is the first necessary step in the product design process. At this stage, you will present your idea, the needs that you want to cover or the problem that you want to solve.
I will ask you questions in order to get a complete picture of your idea with all its aspects.
A project summary is created (briefing) and its objectives are specified. The brief will be the guide that will then direct the work of the industrial designer. The design brief must be complete and clear.
Here, the objective is to learn more about your industry and investigate your competition (direct and indirect) and similar or related products that exist on the market. Competitive products on the market, their specifications, their manufacturing materials, their design and the techniques they incorporate are being identified and examined.
The purpose of the research stage is to find one or more elements of differentiation of the product under design with respect to the available products of the competition.
Alternative sketches and drawings are created. These sketches are usually small, incomplete designs that are quickly created, touching various aspects of the product and have not yet been examined as to whether they are feasible or not. 
Ideas from the brainstorming session are evaluated. The best ideas are combined and processed to form a complete design. Through the evaluation and synthesis process, three different concepts are created. It is likely that these proposals will be fewer or more than three, depending on the needs and particularities of the project.
The purpose of this is to present our concepts to you. During the presentation of our alternative suggestions, we explain the rationale behind each proposal, all their elements and features, the advantages and disadvantages of each proposal.
Together we evaluate them in order to select one of them or a combination of different features from more than one proposal. The one that you will select will be the final concept that will be developed further.
At this stage, we focus on the selected alternative and we work on finishing the final product. We review all the individual details to ensure that the project meets all the requirements and objectives of the initial brief.
A non-production digital 3D model is created. Materials and lighting are added to create a photo-realistic image of your product. 
Product visualization helps move your design idea from concept to reality, providing a unique opportunity to visually engage with a product before it has been created.
The final stage concerns the delivery to you of all the final files and documents. These include the digital three-dimensional models of all the different components of the product and the model of the assembly, the technical drawings and some photorealistic images of the new product.
Having the above files at your disposal - and of course in your property - you can contact potential suppliers and/or manufacturers in order to collect and compare offers and proceed with the production of your new product.
If you like, we can guide you and advise you on choosing the right suppliers based on the requirements of the product.
Some Clients Include
Callaway | Beardbrand  | Walt Disney | Lucas Arts | Marvel | Lego | Karl Karcher Enterprises | Sony Pictures |  Proctor & Gamble | Coca Cola | Go Pro | Govino | ROKU | Mizuno | ANOVA | Keri Systems | Advoque